Jade & Jane launches a one of a kind cannabis-infused, single serving 10mg THC cupcake edibles line in Colorado
Denver, May. 23, 2018/AxisWire/ Cannabis cupcake company, Jade & Jane, broadens consumer's choices in the edibles market with recent introduction of single serving, recreational 10mg THC-infused cupcakes. Jade & Jane's products are available to retail customers through licensed Colorado recreational dispensaries. Wholesale dispensary customers may contact Jade & Jane to place orders. Ordering through LeafLink is coming soon.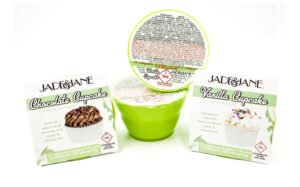 Started in 2016, Jade & Jane offers cannasseurs a delicious, handmade alternative to typical, "herbal tasting" edibles. Attractive visual appeal makes Jade & Jane products highly desirable. "We want consumers to feel excited when opening our cupcakes for an anniversary, birthday, or treat,"  says Jade & Jane CEO Stephanie Silva.
"Our products are genuinely unique in the Colorado cannabis industry. Jade and Jane cupcakes provide a high quality, reliable, and steady experience because they contain tasteless THC powder. To begin we're offering traditional flavors like chocolate and vanilla bean, but more interesting options are coming soon. Cupcake edibles offer convenient cannabis consumption with familiarity and nostalgia. It's my hope we can help remove the stigma from cannabis use by offering the first mainstream edible that's as American as apple pie and as classic as a hostess cupcake," says Mrs. Silva.
Jade & Jane plans to release a 90mg recreational cupcake multi-serving product in the near future. Notably Jade & Jane's cupcakes are allergen friendly and vegan/dairy free. Additionally their packaging is child resistant and C.F.R. Title 16, Part 1700.15 & 1700.20 compliant. In an upcoming event on May 30th, 8 AM EST Jade & Jane will be doing a Reddit AMA on r/GlitterBongs.
About Jade & Jane: Jade & Jane is a female owned, licensed Denver, Colorado MIP (Marijuana Infused Products) manufacturer of recreational cannabis-infused cupcakes. Learn more at jadeandjane.com or call (720) 441-3209. Email Questions@JadeandJane.com, or follow Jade & Jane on Instagram, Facebook, Twitter, Pinterest, and LinkedIn.
###
If you would like more information please contact Stephanie Silva at (720) 441-3209, or email Questions@JadeandJane.com.